Choices of Stripping Basket – revised
Revised the post on old blog with new baskets.
This review is strictly based on a fly angler like me who fish by walking, wading, and boating in lakes and ocean. I tend to jump over obstacles when I'm in huting mode, so durability as well as mobility is the key. I also hate hitting my elbows every time I double haul or strip lines.
1. Solid Basket or "Lunch Box"
Solid box is good for 2 things. It will float hard when you are deep wading. It is shallow enough to send line out smoothly, again in deep wading situation. However, it's extremely painful to use this box in surf where wave can knock any wide surface hard.
Orvis

Classic. I have this basket for long time. Just look at it… I can't stand this design any more… It hurts my eyes as much as it hurts my elbows when I'm double hauling. It's uncomfortable, uncool, and it's not cheap. Yet this was the only choice when I go deep wading.
Line Kurv (formerly produced by L.L. Bean)
Many people recommended me to go after this basket, but it was discontinued by L.L. Bean. I wanted this over Orvis for more ergonomically correct design. Distributed by C&F in Japan.
2. Collapsable Basket
When you don't have to worry about wading, then this may come handy for the position of basket will be ergonomically best.
C&F Outrange
Probably the best choice in market today, if you look for collapsable basket with light weight and ease of packing. It comes with 10 cones that can be stored within the foam bottom.  Whole thing is only 60g and nicely fit within a stuff bag that comes in package.
Mangroove Hip Shooter

Light, ergonomically designed, and deep enough to keep the line where you want it to be. I got this one and I take it from surf to offshore boating.
Little Presents

Designed for sea run trout fishing from surf. It has storage pockets outside the basket. Good reviews, but I'm bit worried how it works under very windy condition.
River Guide: Line Basket + Line Through
River Guide's system is made of 2 separate parts. Line Through with cones that can be use individually, and Line Basket (M/L/LL) that has mesh in the back where water escapes.
I see good reviews on this system, and people who complains about the weight of Caps tend to choose this basket.
Caps: Large Mouth Basket
Very good reviews and only probelm is the weight and durability. It's pretty damn heavy to move about in surf, but it does hold your line really well. Great choice, if you know you will stay in one spot long enough in windy day.
3. Compact Mesh Type
Travelling fly anglers used to take one of these. Mesh welcomes both wind and wave, so this is most likely to be used in soft condition.
L.L. Bean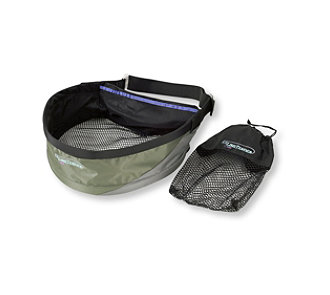 They gave up on their own design, but inherited William Joseph… I have no idea how they manage their product portfolio.
William Joseph
Classic and does the job right. I borrowed this from my friend once and it was comfortable using except… tangling problems and windy situation. Many anglers went away to New Zealand for trout fishing were happy with this. Probably the best comact choice when you go on drift boat.
4. Bucket
You mean "basket"? No it is stripping bucket for hard core boat anglers. Competely eliminates the effect of wind once lines are put inside. Good only for boat.
Fiskars Kangaroo Gardening Container
Garden container? Yes. You gotta show some spritis in DIY outside of fly tying sometimes. One on photograph was the old model in green for 30 gallon. New one comes more stylish.
http://www.midcurrent.com/articles/gear/anderson_lb_strippingbasket.aspx
If you'd like to know more, please click the banner below.